News & Information
Online Information Session about the MEXT Scholarship: IGP Special Quota on Dec. 22
(posted on December 16th, 2021)
*NOTE: This event has been finished. The  recorded video is available from HERE (recorded zoom meeting).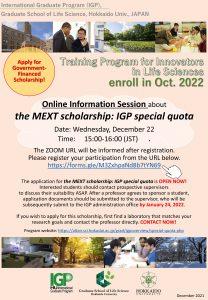 The IGP; International Graduate Program for Graduate School of Life Science, Hokkaido University is organizing an online information session about the MEXT Scholarship: IGP special quota (enrollment for October 2022).
PR Video (Youtube)
Date: December 22, 2021
Time: 15:00-16:00 (JST)
The ZOOM URL will be informed to participants after registration.
Please register your participation by December 22 at 10:00 (JST) from the URL below.
The registration URL: https://forms.gle/M3ZxhpaNd8b7tYN69
< Content >
– Eligibility of the scholarship
– How to apply
– Application Schedule
– Laboratories of Program
– Q&A
– Others
== About the International Graduate Program ==
The Graduate School of Life Science's "Training Program for Innovators in Life sciences – Be a Bridge between Hokkaido and the World -" is designed for international students who major in life sciences and are seeking to continue graduate studies in Japan.
Program Brochure (PDF)
== About the MEXT Scholarship IGP special Quota ==
Students of the program can apply for a MEXT* scholarship: IGP special quota. 3-year scholarships for 7 doctoral students and 2-year scholarships for 1 master student are available for international students during their study at Hokkaido University. (*the Ministry of Education, Culture, Sports, Science and Technology, Japan)
"MEXT Scholarship (IGP special quota): Brochure"
.