News & Information
Laboratory of Protein Science Seminar co-organized by IGP
(posted on July 25th, 2019)
Laboratory of Protein Science Seminar will be co-organized by IGP on August 2.
Please feel free to join us!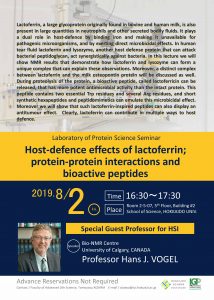 Date: Friday, August 2, 2019
Time: 16:30-17:30
Venue: Room 2-5-07, 5th Floor, Building #2, School of Science, Hokkaido University
Speaker: Professor Hans J Vogel, Calgary University, Canada
Title: Host-defence effects of lactoferrin; protein-protein interactions and bioactive peptides
Language: English
Abstract:
Lactoferrin, a large glycoprotein originally found in bovine and human milk, is also present in large quantities in neutrophils and other secreted bodily fluids. It plays a dual role in host-defence by binding iron and making it unavailable for pathogenic microorganisms, and by exerting direct microbicidal effects. In human tear fluid lactoferrin and lysozyme, another host defense protein that can attack bacterial peptidoglycan, act synergistically against bacteria. In this lecture we will show NMR results that demonstrate how lactoferrin and lysozyme can form a unique complex that can explain these observations. Moreover, a distinct complex between lactoferrin and the milk osteopontin protein will be discussed as well.
During proteolysis of the protein, a bioactive peptide, called lactoferricin can be released, that has more potent antimicrobial activity than the intact protein. This peptide contains two essential Trp residues and several Arg residues, and short synthetic hexapeptides and peptidomimetics can emulate this microbicidal effect. Moreover we will show that such lactoferrin-inspired peptides can also display an antitumour effect.
Clearly, lactoferrin can contribute in multiple ways to host defence.
Contact: Prof. Aizawa (aizawa[at]sci.hokudai.ac.jp)