News & Information
The 2019 MEXT Scholarship application is open.
(posted on December 13th, 2018)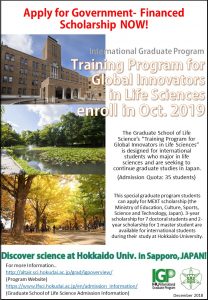 The "MEXT (Japanese Ministry of Education, Culture, Sports, Science and Technology) Scholarship: IGP special quota" application for admission in 2019 fall semester is now OPEN! Find a lab that is the best fit for you and  Contact the directors directly to get further information about application schedule, procedures, and documents.
IGP_MEXTscholarship_leaflet2019 (PDF)
MEXT Scholarship: IGP Special Quota